BUDWEISER CLYDESDALES SPREAD CHRISTMAS JOY IN CLASSIC COMMERCIAL.
|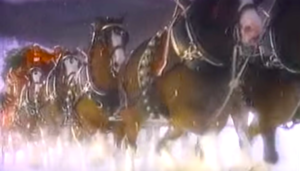 In this nostalgic Christmas ad from 1987, the Clydesdales are bringing into town a giant, perfect Christmas tree – the very best one, in fact. Who better to deliver it, right? The message: Budweiser wishes only the best for the Christmas season.
You'll feel nostalgic and in the spirit for the holidays after seeing this 1987 Budweiser holiday ad! Who doesn't adore the Clydesdales from Budweiser ?
Video: