When a man comes to the aid of a kitten, he is greeted with a pleasant surprise.
|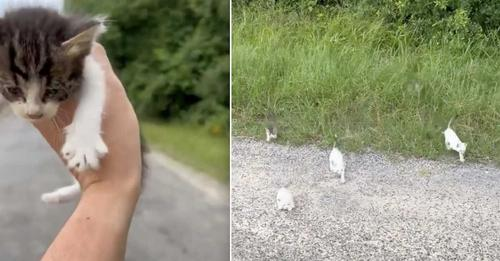 Robert Brantley wasn't expecting to be surrounded by a "herd" of kittens when he stopped by the side of the road to save one.
In the viral video, Brantley gets out of his car and approaches the lone kitty, telling her that if she stayed there, she would be killed. He lifts her up to examine her, but is startled by movement in the bushes — "Oh my my, there's more!" he exclaims.
"We've got a kitty problem," the Good Samaritan from Pioneer, Louisiana, declares seconds later. He's initially overwhelmed, declaring loudly that he won't be able to handle them all before asking, "Who would do this?"
"I thought I was saving one!" Brantley exclaims at the end of the video clip.
People were eagerly awaiting an update, and Brantley quickly delivered with a cute follow-up video showing the 13 kittens in his car. In his Honda, the kittens made themselves at home.
"He appears exhausted, but is still doing the right thing," one redditor said. That's fantastic! I'm hoping they all find happy homes!"
"Brought them home where we're working to make them well and get a nice home," the cat rescuer, or should we say kitten wrangler, posted on YouTube.
Courtney, his wife, has since created a TikTok account in order to give additional video updates of the cat on their farm. One image depicts the kittens being transported in a wagon (accompanied by an adorable dog).