THIS POLICE HORSE ISN'T READY FOR MORNING DUTY UNTIL HE GETS A CUP OF TEA.
|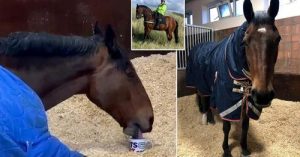 Jake, a 20-year-old police horse, refuses to go to work unless he has his daily cup of tea. In his 15 years with the Merseyside Police in Northwest England, he's discovered that he enjoys one thing above all others in the morning – a large, sweet mug of freshly brewed tea.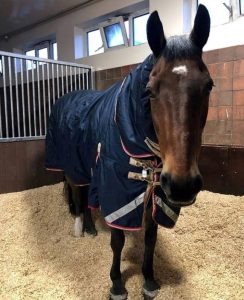 Source: Merseyside Police Mounted Section
His tea should be not too hot so that he doesn't burn his tongue.
Jake began drinking tea after sneakily swiping a sip from his rider's cup.When the 20-year-old horse starts sticking his mouth in his rider's cup every day, the Merseyside Police Mounted Section includes him in their morning cup of tea.Jake will reportedly wait in his stable in Allerton, Liverpool, every morning for his specific large cup to be handed to him before agreeing to begin working, according to the Daily Mail.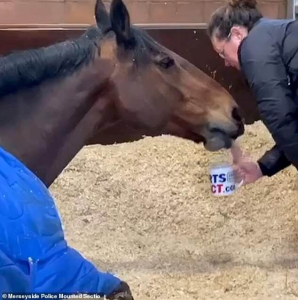 Source: Merseyside Police Mounted Section
A Merseyside Police representative also revealed that Jake enjoys drinking regular tea with skim milk and two sugars.Many people on social media are ecstatic about Jake's video.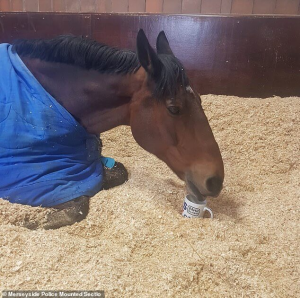 Source: Merseyside Police Mounted Section
We believe Jake to be a horse with such a lot of personality. We've all been used to his tea order: while he can manage including one honey, he clearly enjoys himself more when you manage to serve him two."
Jack feels he can perform better at work when he is treated a big mug of tea. And, the horse has started each and every day the exact same way until he retired from the force.
Video:
We have a new episode of #wintermorningwakeups featuring Jake. Jake refuses to get out of bed until he is brought a warm cup of @tetleyuk tea. Once he has drank this he is ready for the day. #StandTall #PHJake #NotStandingAtAll #BrewInBed #TeaTaster pic.twitter.com/iJXm32hlad

— Mer Pol Mounted (@MerPolMounted) November 20, 2019
Nobody actually is capable of waking up early and going straight to work without having a refreshing tea of coffee.