Teen Wins Grueling Tevis Cup Endurance Race With Horse She Got For Free On Craigslist.
|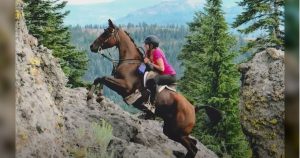 Every child has a dream, and for Sonoma Blakely, that dream was always intertwined with the rhythmic gallop of horses.
Sanoma Blakeley was riding horses before she could walk. But even she was amazed when she won the Tevis Cup endurance horse race at 18 years old. The Tevis cup is the most prestigious horse race in the world – a grueling 100 mile race through the Sierra-Nevadas.
The teen from Terrebonne, Oregon had been racing in the Tevis Cup since she was old enough to enter at age 12. But it would be with a horse that her family got for free off Craigslist that her dreams of being a champion would be realized.
Goober was a 2-year-old Arabian horse with a lot of "baggage," according to his former owners who advertised him for free. Blakeley's family jumped at the opportunity, took him in and rehabilitated him, Blakeley told the Central Oregon Daily News. She says Goober has personality enough for three horses and is a very mischievous character, but he is also a good racehorse and has a lot of heart.
That heart was evident in the Tevis Cup race, as Blakeley recounts the experience in the video below:
Video:
Today, Sonoma's journey, from adopting a horse nobody wanted to becoming a Tevis Cup champion, has been immortalized in her book.
Titled "Chasing Dreams," it narrates the true story of her improbable victory and the challenges she faced along the way.
The process of writing and publishing the book, she admits, felt like an endurance event in itself, perhaps even more challenging than the hundred-mile race.
Every detail of their journey is as fascinating as the historic win itself.
Sonoma's story is a beacon of hope, a testament to the fact that dreams, no matter how distant they seem, can be realized with determination and passion.