Store Allows Leashed Pets Inside So Cowboy Decides To Bring His Horse.
|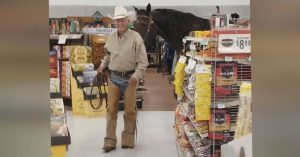 Shoppers at a Tractor Supply store in Elk City, Oklahoma were left with their jaws on the floor when the looked up to see a giant horse walking the aisles. The horse, along with his personal cowboy/owner, were simply shopping for a bag of grain thanks to a very inclusive sign hanging outside the store. That sign says, "All pets welcome. Must be on leash."
That's why the horse owner asked for the staff's permission in order to bring his horse inside the store. Meanwhile, the horse was sitting outside, calmly waiting for his owner to take him inside. Since a bridle is a chain for a horse, the staff members allowed the man to bring his loyal friend inside the store.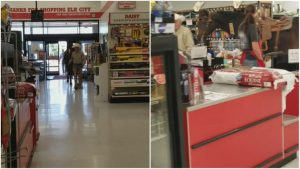 Robin Morris, who was shopping at Tractor Supply made sure to get lots of pictures as the duo began to roam the corridors. The photos became a sensational hit as soon as Robin posted them on different social media because it's not every day that you have the chance to see a horse walking through a store.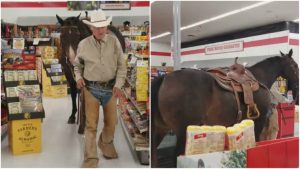 Video:
Once they got what they needed, the cowboy lead the horse back out of the store, then presumably rode off into the sunset.