Stallion Gallops Around The Pasture Showing Off His Glory.
|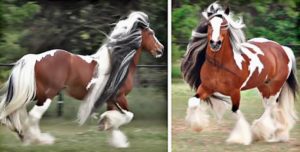 When you see a Gypsy Vanner you immediately
recognize them because of their unique look. This is the reason that they have become very popular on the internet and you may see them on every horse lover community.
Gypsy Vanner Horse Showcase/YouTube
These amazing creatures have a long mane and
thick hair who are also straight and shiny. The saying "A good horse never comes in a bad color" is particularly true for Gypsy Vanner horses.
Gypsy Vanner Horse Showcase/YouTube
This breed can be found mostly in the United
Kingdom but also in various countries such as the United States, Mexico, Australia, Netherland, and some other europian countries as well. Copper Coin, shown in the video is a grand national champion Gypsy Vanner. As you may see, he has all the characteristics that are mentioned above and is driving around peacefully leaving us amazed by his beauty and grace.
Video: