Silver Bullet – Fabulous Purebred Gypsy Vanner Stallion.
|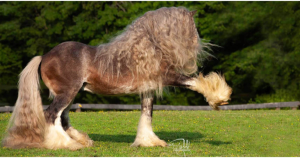 Meet Silver Bullet, a magnificent purebred Gypsy Vanner stallion whose presence leaves a trail of wonder and admiration in his wake. With his striking appearance and unparalleled charisma, Silver Bullet is not just a horse; he is a living embodiment of equine excellence.
A 14.1hh Gypsy Vanner Stallion, born in 2003 and sired by the Chocolate Palomino stallion The Boss , Silver Bullet is a stunning Gypsy Vanner stallion with excellent conformation and stunning good looks. Below you can see a video of this stunning Purebred Gypsy vanner stallion
Silver Bullet won numerous championships including the Gypsy Cob and Drum Horse Classic in Lexington, Gypsy Pleasure Driving championship, Grand Champion Gypsy Stallion and 2015 was presented as a legend of the breed.
Video: