Rescued Clydesdale Horse Thanks The Firefighters For Saving His Life.
|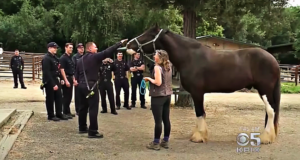 Experts say that incidents happen all the time but the most important thing every rider should do is to react very fast after things have gone bad and you have lost control of your horse.
Well, that is true for most of the situations but for Leah Felix and his Clydesdale horse named Daniel things weren't that easy. Unfortunately, while they were riding on a summer night, Daniel unexpectedly stepped off a single-track trail.
He completely lost his equilibrium and therefore both horse and his rider fell down a steep ravine. Poor Daniel was first trapped badly in the trees whilst Leah was stuck on the rocks below. Firefighters went there as fast as they could and immediately started the difficult operation to save both of them.
The President of East Bay Society, named Allison Lindquist said that the firefighters managed to rescue Leah very quickly and immediately took her to the hospital whilst other members of the team worked for more than five hours to safely remove the giant horse from the trees.
Now we got the good news that both Leah and Daniel have recovered very fast and are in good condition.
As you can see in the video below, Daniel and Leah went to meet and thank all the firefighters that worked very hard in order to rescue them.
Video:
Every horse rider understands that riding is a very difficult sport and that there are times when things can get out of your hands even in a fraction of second.