PUPPY IS BORED ON THE FLIGHT AND DECIDED TO AMUSE THE PASSENGERS.
|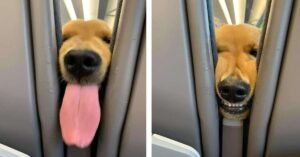 When Huxley's mom took him on his very first plane ride, the Golden Retriever puppy soon discovered what we all know: planes are boring.
Huxley got annoyed when his mom didn't provide him with the attention and entertainment he demanded, and he decided to teach her a lesson and take matters into his own hands.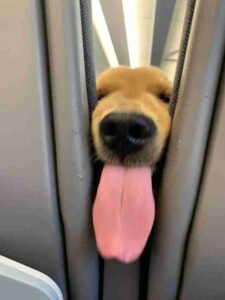 The pup seemingly reasoned that if his mom wasn't willing to shower him with attention, perhaps someone else was!
So, Huxley left his mom's side and went to sit down next to the man in the row in front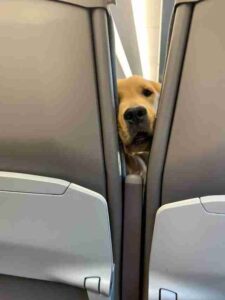 "He sat there for 30 minutes; the guy next to him said he was a great traveler, and the guy across the aisle was taking selfies with him," Aitchison remembered.
"Huxley kept handing him his paw to hold.
He was making everyone laugh, and the man next to me asked me to photograph him so he could send it to his daughter."
We think this attention-seeking pup is adorable, and the pictures are even cuter.
What fortunate passengers to have Huxley brighten their day.
Please share his cuteness with your family and friends.