PUPPY BORN WITH NO EYES LIVES HIS SWEETEST LIFE.
|
This adorable puppy was born without eyes. He does, however,otherwise appear to be healthy. He will be fostered by Nampetch Petch until he is old enough to find a new family.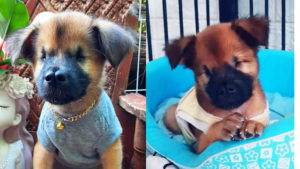 He is such a sweet and energetic puppy. Many thanks to Nampetch Petch and everyone else who showed him so much support.
Please send this kind individual your love.
We ask God to provide the little sweetheart a happy life.
Watch more details about the story in the video below: