ORPHAN BOYS CHOSE TO SHARE THE LITTLE FOOD THEY HAVE WITH 10 DOGS THEY ADOPTED.
|
In January 2013, while attending the Chobi Mela Photo Festival in Dhaka, Bangladesh, I stumbled into Robindra Shorbod, a little park in the city's southwest that serves as the home to about ten homeless kids. that beg for money, collect plastic containers to sell for recycling and most importantly, share every ounce of food they earn with the 10 dogs that live with them.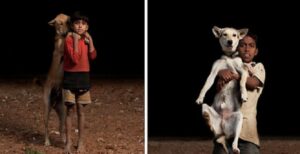 During the festival, I spent a week hanging out with the boys and dogs and learning about their daily routines and survival skills.I painted a few of portraits to cap out the week. In each of these images, the Robindra lads are seen as unique individuals. It's true.
These images show the strength, bravery, and—most importantly—relationship with the dogs they have adopted of the orphaned youngsters.