MILITARY DOG TAKES IT UPON HIMSELF TO PROTECT SLEEPING SOLDIER AT AIRPORT.
|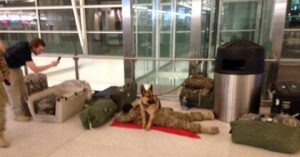 The finest gift that the Almighty has given us is a dog. They always respond wonderfully when we need help, and they are always there for us. The finest illustration of what we just mentioned comes from a videotaped account that is now trending on social media. A photographer was passing through the Indianapolis, Indiana airport when he made an amazing observation.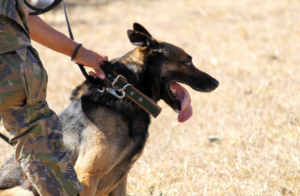 Credit: WPTV
While he was sleeping, he noticed that a dog was guarding his soldier. According to the photographer, it was one of the most touching things he had ever experienced in his life. A sizable squad of the military, numbering 12 people, was said to be going through the bustling airport. Military k9s were two of them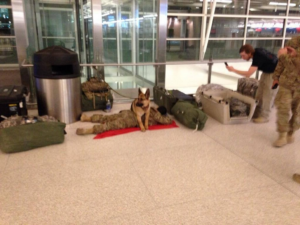 Would you ever try to steal a soldier's stuff while traveling with a military dog? I certainly wouldn't.
During the quick stop, the dog was as alert as an owl, while the military guy slept soundly on the ground. The entire thing was captured on video and widely shared on social media, receiving thousands of likes and shares.