MEET THE RARE AND MAJESTIC CAMARGUE HORSE OF FRANCE, SHORT FILM FOLLOWS FRENCH HORSES.
|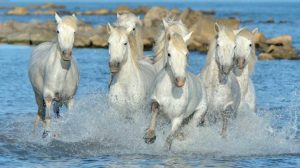 With their characteristic grey colour and love of salt water, the white horses of Camargue offer a wildlife watching experience second to none.
Not only are these horses strong and able to withstand extreme elements, they are also even tempered and although they are technically wild, their living among humans for thousands of years have made them friendly and curious of visitors and wildlife watchers.
Often called the Horse of the Sea, the white horses of Camargue attract not only curious tourists but professional photographers from around the world who come to capture them frolicking in the water during sunrise and sunsets.
Video:
Video: