Mare Seeks The Attention Of Her Of Neighbouring Stallions.
|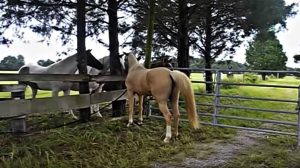 In the video shown below, you will see a beautiful Tennessee Walking Horse who had been on a dry lot for three years of her life and never had met other stallions.
Just like humans, horses also like to flirt with each other by using their body language. Make sure to watch the beautiful Tennessee Walking horse in the video shown below!
Video: