Hesitant Horse Shows Off His Skills By Jumping Over The Ditch.
|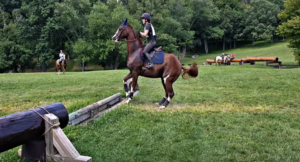 Whether it's a young horse, an inexperienced rider, or a combination of both, it's important to develop that human-animal bond. As trust develops, both horse and rider gain confidence in one another.
This video seems to show a budding horse/rider relationship.
Commando the Holsteiner is learning to jump. In this hilarious video, the horse and rider approach a ditch, but he hesitates not sure he wants to make the leap. What he ends up doing put a big smile on my face!
Video: