MAN REUNITES MARE AND HER LITTLE FOAL STUCK IN THE MIDDLE OF THE ROAD.
|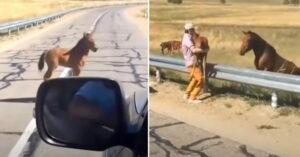 What would you do if you spotted an animal on the highway? Not only would there be an obvious danger to the animal, any kind of object on a main road could also be the cause of a car accident – so if you're brave enough, the best thing to do would be to try and coax the animal off the road. Of course, this isn't always possible, and we'd advise only getting out of your car if it's safe enough to do so. But if it is, then you could be saving more than one life!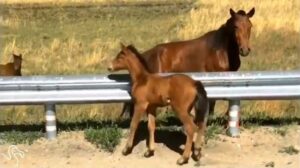 As a young foal, he was too small to jump over the metal railings like all of his fellow herd members, which is why he found herself facing two motorway lanes alone and fearing for his life. As we can see from the video, the foal was feeling very nervous, so he had to help him as soon as possible. He grabbed the foal and managed to lift it over the metal barrier where the foal's mother was waiting for her. There are no words to express this emotional rescue so please take a look at the video and let us know your opinion.
Video: