HORSE GIVES TINY PUPPY GENTLE HEAD RUB, PUP RETURNS THE LOVE WITH KISSES.
|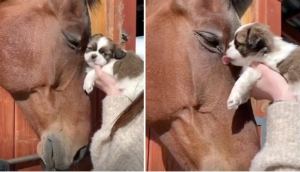 Everyone needs a best friend in life. Some of the main reasons to have a best friend in life include unconditional support and love, loyalty, and self-esteem boost.
The puppy kissed the horse on the forehead as the horse affectionately rubbed his head on puppy. It was the beginning of an unbreakable friendship between the two of them; they will probably always be best friends.
We need more of this companionship, so maybe Zile will be able to bring Vily around on a regular basis. Watch how they communicate below.
Video:
Love and friendship know no species.