Little Foal Gets Scared To Go Outside For The First Time.
|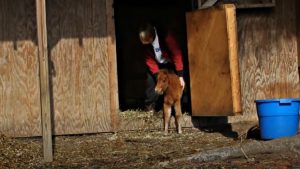 Normally, foals are very excited to leave the barn and go out for the first time in nature, but the beautiful miniature horse named Sienna was a little Scared to do so. Even though her mother was there to accompany her throughout the whole walk, the baby horse just stood there and didnt look excited at all to go out, on the contrary, she was very nervous and help from others was needed to make her go outside.
Finally, when that moment came, Sienna understood that there was nothing to worry about and started enjoying the beautiful nature along with her mother. As you can see, she can't stop running and following her beautiful mother around. Its so Wonderful to witness this beautiful moment between a mother and her lovely child.
Video: