Breathtaking Gypsy Vanner Horse Stands Out From Others.
|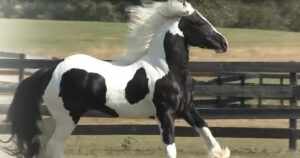 Gypsy Vanner horses are known to look elegant, regal, and have a unique look. This Gypsy Vanner named Pearlie King will have you doing a double-take.
One reason that horse fanatics love this breed is that they're not only easy on the eyes, but they're also sweet, loving, and incredibly smart animals.
She posses all of the positive qualities you'd hope for in a pet. Not many people can have their own Gypsy Vanner since they're usually costly.
Video:
The Gypsy horse is a striking breed.