HORSE PRETENDS TO BE DEAD EVERY TIME SOMEONE TRIES TO RIDE HIM
|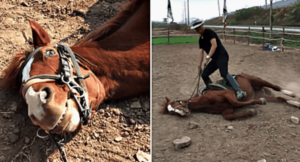 When someone tries to ride Jingang, he acts dead, according to a humorous video compilation that has gone viral.
It was reposted on Facebook by Frasisco Zalasar, a horse trainer from Durango City, after it was first released on YouTube by Kritter Klub.
Many instances where the animal hurled itself on the ground when approached or mounted by a human are seen in the video compilation.
Jingang has mastered the death trick to the point where he even loosens his mouth and arranges his hooves in strange positions to make it appear as if he can no longer carry on.
He only stays on the ground for a few seconds, but when anyone starts approaching to get on him, he drops back to the floor.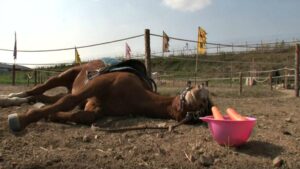 The action is "sweet but naughty," according to a man in the video.
The hilarious video has been viewed over 24 million times and counting, and the horse has wowed viewers with its incredible acting abilities.
Watch video and decide for yourself whether you think the animal is being lazy, playing around, or simply wanting to be left alone.
Regardless, we've got an Oscar nominee on our hands!
Please SHARE our article with your family and friends if you found this video amusing or interesting!
Video:
https://youtu.be/L3dC3Z8pf5U