HIDDEN CAMERA CATCHES CUTE BEAR CUB HAVING A BATH WITH A TOY BEAR HE FOUND.
|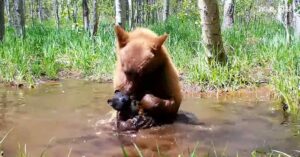 Tamarack, an orphaned bear cub, was rescued from a wildfire zone in Northern California last year after his paws were scorched in the flames.
He was recovering from his injuries at a wildlife rehabilitation center when he surprised his rescuers by fleeing back into the wild. Fortunately, Tamarack is still alive and well, despite his past trauma, as evidenced by this video.
Sielsch ensured he got glimpses of the bear cub every now and then through the trail cam he had set throughout the forest.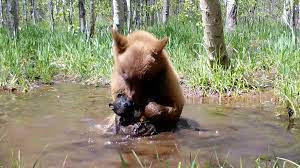 The origin of the bear toy is unknown, but it is something Tamarack cherishes, and Sielsch smiled when he saw them together.
However, the bear yearling's playfulness could melt any onlooker's heart. Sielsch was very happy that the orphaned bear was now living a happy life and was completely healed physically and mentally.
The way the wild bear played with his little toy proved that even though Tamarack grew up, he still knew with whom to play & have fun. Many onlookers couldn't believe it was a coincidence that the toy had such similar features.
Video: