Friesian Stallions Play Together But Each One Of Them Wants To Be The Boss.
|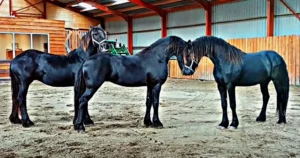 The Friesian horse is truly a unique breed. If I ask you which horse breed is the most beautiful, I am pretty sure that a lot of you will mention Friesians. They are not only stunning but also one of the most expensive horse breeds ever. In a list made a few years ago with the most expensive horse breeds, they were part of the top five, which says a lot about how demanded they are and at the same time, how special they are. It is impossible to ignore such beauty.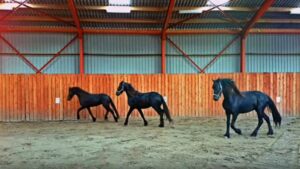 Do you remember Frederik The Great ? He was declared the most beautiful horse in the world and even one of the most famous TV hosts, James Corden, brought a photo of him on his show and admitted that the title 'most beautiful horse in the world' was well deserved. Well, in the video below we have some other amazing Friesian horses who are spending some quality time together.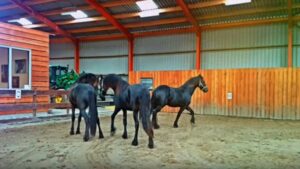 What you are going to watch in this video is three Friesian horses playing and having fun together. This video is beautiful to watch as it combines beauty and spirit together. These Friesians trot with power and action, bending well and deep at the joints. Steps are high and long with a lot of "air time'. The walk is straight, forward, and springy. The canter is lively with a strong pushing power from the hindquarters that creates a thrusting, jumping canter.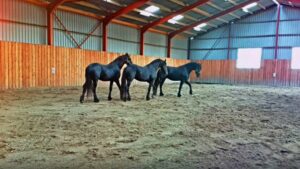 These loyal, willing, placid, and cheerful Friesians are very people-oriented and highly intelligent with an uncanny ability to retain knowledge. Friesians tend to spook much like a cat, they stand stock-still puffing themselves up the look "big". Friesians do not tend to bolt but they can sometimes spin slowly in a circle always coming back around to face what they are afraid of.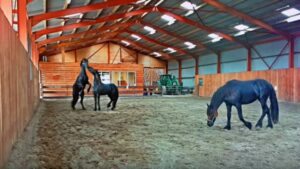 They all look very similar to each other, it is difficult to spot them from one another. I am pretty sure it is not a struggle for their owner though.
Video:
What do you think about these beautiful horses?