DISABLED UNWANTED DOG WITH BENT-LEGS IS ABANDONED ON THE ROAD IN FRONT OF A TIRE REPAIR SHOP.
|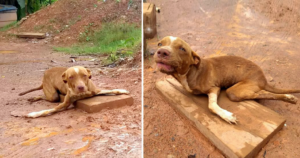 In mid-February,tire repair workers Ozimar Queiroz and Lindomar Queiroz were surprised when they arrived early to work at the tire repair shop located on Estrada do Belmont, North Zone of Porto Velho. That's because there was an abandoned dog on the side of the road. The docile animal was thin,had open paws,and couldn't walk.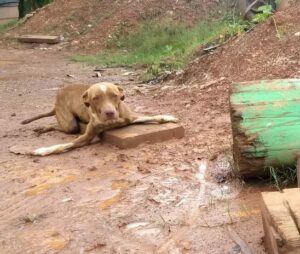 Ozimar, also known as Galego, was sensitive to the dog's plight and vowed to care for him until he was able to find someone to adopt him; however, 20 days have gone and the dog still lacks a stable home.
"He was thrown in front of the store. He was there when we got there early in the morning. We felt bad for him, so we brought him here and gave him food, but the poor animal is still stuck in that place. Due to the fact that his two front legs are turned back, he cannot walk at all "He claims: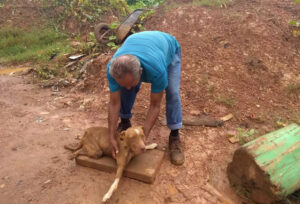 The dog was given the endearing moniker Seal as a result of its placement on the board since it is immobile due to having both paws open.
The tire repairmen relocate the dog around a few times throughout the course of the day, but finally the canine resorts to dragging himself through the muck in order to socialize with the lone other animal present—a stray cat that ambles around the tire shop.
The dog is calm and requires veterinarian care, but Lindomar Queiroz said G1 that he could not afford it.
"Because of his appearance, we refer to him as a seal. He was really skinny when we got him, but now that we're feeding him, he's already becoming plump. He is filthy from the rain, but we don't have to think about that here "so says Lindomar.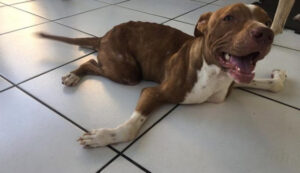 The dog's desertion caused a stir on social media, and a Porto Velho couple have already adopted.