DEER EMERGES FROM THE WOODS TO ENJOY A BEACH DAY, ON LAKE MICHIGAN.
|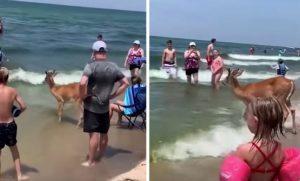 A holiday weekend seemed to mean a break for even the wildlife, or at least for one deer, who enjoyed a beach crowded with people.
The deer appeared from the forest, startling everyone at the beach by standing in the water and strolling down the sand.
It had not shown the least bit of fear or timidity toward any of the people. The deer was super friendly and seemed to be accustomed to humans.
Watch the video below: