Beautiful Reunion: Donkey Recognizes The Girl Who Raised Him Even After Many Years.
|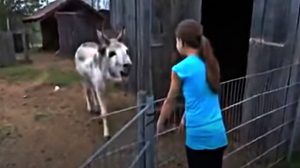 In the video shown below, you are going to be witness to a wonderful reunion of a donkey and a girl that raised him after many years of being apart. It's very amazing that the donkey recognizes the little girl even though he hasn't seen for a long time. As you can notice, as soon as he watches the little girl he starts making sounds and isn't planning to stop if he doesn't get a hug from the little girl.
Source: ViralVideo Italia
This video goes to prove that animals recognize immediately people who have treated them with love and respect. His reaction is definitely the cutest thing we have seen today and I'm pretty sure it will put a smile in your face.
Video: