Animal Welfare Organization Warns Against Transporting Dogs in Pickup Trucks'
|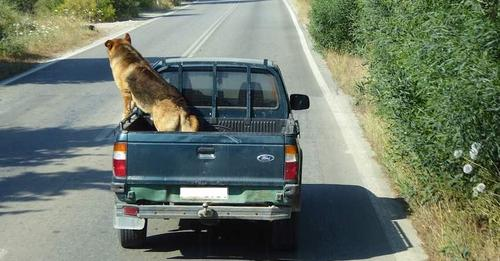 The risks of leaving dogs in hot cars are frequently mentioned in summertime advisories, but the risks of allowing dogs to travel in the open backs of pickup trucks are much less frequently mentioned.
Not only is it dangerous, but leaving your dog unattended in the back of a pickup truck has the potential to be fatal. This is not something a dog owner would do, according to common sense.
However, more than 100,000 canines perish each year while traveling in a truck's box, according to Alberta Animal Services.
The Alberta Animal Services recently brought attention to this troubling fact on Facebook. The animal protection organization emphasized that the number of dogs who suffered major injuries after being thrown from a car is not even included in this data.
They wrote about the risks of leaving dogs unattended in a car in an effort to inform people about safe dog ownership.
They wrote as follows:
YOU KNEW THAT?
"More Than 100,000 Dogs Perish Each Year While Riding in a Truck Box.
"Transporting a dog in a truck box incorrectly puts them in a highly dangerous situation.
"You might spot it when you're driving. trucks with dogs on the back. Perhaps you even know someone who engages in it. Numerous examples of dogs getting hurt after jumping out of or being tossed from a pickup truck bed are seen by veterinarians. Broken legs and joint injuries are among the most frequent types of damage in these dogs, and they frequently end in amputation if they are fortunate enough to be alive.
Numerous more risks exist, including the following:
Damage to the eyes, ears, and nose can result from driving at high speeds in the open air, whether the driver is in the back of the truck or not. In the truck bed, where the air is constantly spinning, a dog's eyes, ears, and nose may become obstructed with dust, debris, or insects.
Imagine slamming on the brakes while your dog is in the truck bed. You might be thrown from the vehicle. They might just fly out onto the road, where they might be struck by another car. Additionally, you run the chance of having an accident. You are mistaken if you believe that tying them up with a rope or chain is any better. In some instances, dogs have been thrown out of the back of trucks while still attached, dragged down the street, or left dangling while the owner is still operating the vehicle.
"Jumping Ship: Your dog can have their own plans. Who's to say they won't jump out voluntarily to conduct a more thorough investigation? How long till you realize they are no longer there? Even though your dog would never behave in such a manner, it is nonetheless possible. You never know when or what will set them off.
"It is always advisable to move your pet with safe and appropriate care, regardless of your country's present legislation. A responsible pet owner ensures the wellbeing and safety of their animals both at home and while traveling.
It should be noted that it is unlawful to carry unattended pets in the back of a pickup truck, on a flatbed trailer, or in any other insecure manner in a number of US states and Canadian provinces. You can alert the authorities if you notice a dog being moved in this manner. The majority of states without such a regulation are drafting laws to forbid transporting dogs in this manner.
Nevertheless, regardless of the regulation, people should practice responsible pet management and inform those who might not be aware of the risks associated with dogs travelling in pickup trucks.