A WELL-TRAINED HORSE DOES AN AMUSING 'CHOREOGRAPHY' TO A BILLY RAY CYRUS SONG.
|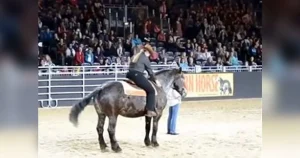 Horses are some of the most majestic, loyal, and smartest animals out there. And if you like horses in general, the video below will make you love them even more. In it, a stunning grey horse is seen performing an astonishing routine to Billy Ray Cyrus' popular song "Achy Breaky Heart," which will undoubtedly make you grin.
So, this line dancing partnership is certainly something to marvel at. Whether you've had experience with horses or not, you can clearly see the bond that this rider has with the very talented horse.
Video: