A Kangaroo Can't Stop Hugging the Volunteers Who Saved Her Life, and the Video Will Melt Your Heart.
|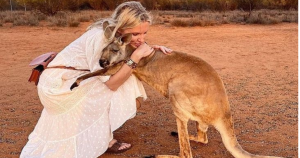 Animals have feelings, just like humans. We're often reminded of how pure an animal's love can be, and there's no better example of that than the story of Abigail, the rescued kangaroo.
In the heart of Central Australia, amidst the red sands and sprawling wilderness, there resides a unique soul—a kangaroo named Abigail, whose story is as heartwarming as it is extraordinary. Dubbed "the hugging kangaroo," Abigail's tale is one of gratitude, resilience, and the transformative power of compassion.
Unlike her fellow kangaroos, Abigail found solace not in the vast wilderness of the sanctuary but in the presence of her human saviors. Her gratitude knew no bounds, and she expressed it in the most remarkable way—through hugs.
Video:
We at Animal Spirit were really touched by the story of Abigail the kangaroo and we thought it'd be a good idea to share it with you guys.