A FAILED CATTLE DOG MEETS A DISABLED CALF AND DECIDES TO TAKE CARE OF HER.
|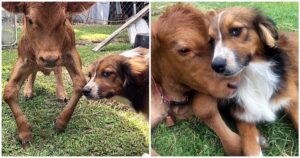 Cupcake The calf was born with a birth defect that caused her legs to bend and curve out. Her back legs were twisted as well, but they eventually straightened out.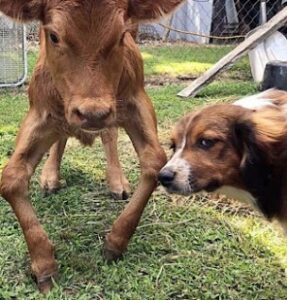 Cupcake was taken in by Genia Kay Meyer when she was five weeks old. She and her husband, Tim, took care of her and would bottle-feed her on a daily basis.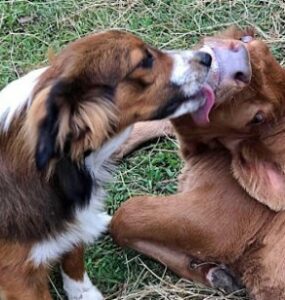 Cupcake, on the other hand, has a third carer, though it's not the one you'd anticipate.
Meyer's dog, Bo, developed a fondness towards Cupcake and began to look after her. They became inseparable, and Bo now stays by her side 24 hours a day, seven days a week.
Bo would suck all the milk off Cupcake's face and groom her as if she were his baby when she first arrived and started drinking from her bottle.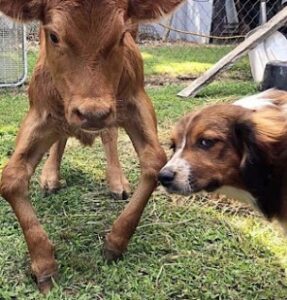 Bo was supposed to be Tim's new cow dog, but he became sick every time he rode in the truck.
While Bo was unable to work as a cow dog, he has discovered his true calling.
Cupcake is particularly protective of Bo, and they like cuddling and playing together.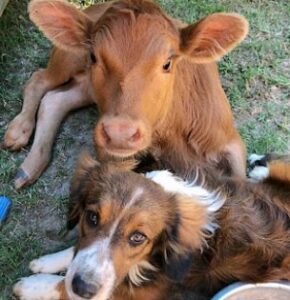 Meyer is now soliciting funds for a Cupcake-related procedure that may or may not work. Her tendons may be able to be cut and repaired, but the family must consult with veterinarians to determine the best course of action.
Regardless, Bo and Cupcake are making the most of the time they have together, and their owners are doing everything they can to provide Cupcake with the best possible quality of life while she is with them.