16 Famous Horses in Movies and TV Series
|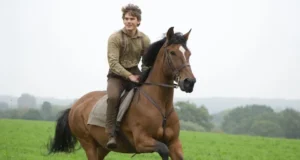 From animated to live-action, these iconic films include some of the most beloved horse characters. Some of these movies are even based on real-life horses.
These famous horses in movies deserved to be recognized for their cinematic importance.
The next best thing to riding horses is watching horse movies. Everyone has a childhood favorite. See where yours ranks on our list.
1- Spirit (Spirit: Stallion of the Cimarron)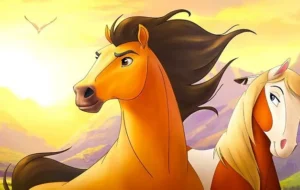 Spirit: Stallion of the Cimarron is one of the most iconic and beloved horse movies. The 2002 Dreamworks film tells the tale of Spirit, a fiery and courageous dun Kiger mustang.
People of all ages love Spirit's fighting attitude as he journeys through the American West on his quest to return to freedom. The film became such a success that Netflix even created their own mini-series based on the movie.
A real-life Kiger Mustang, also by the name of Spirit, was used as the model for his animated counterpart.
2- Secretariat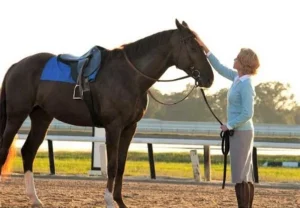 The 2010 Disney movie Secretariat is based on the legendary 1973 Triple Crown winner, Secretariat. Secretariat was a chestnut Thoroughbred stallion and one of the most successful racehorses in history.
The movie tells the extraordinary real-life story of Penny Chenery as she takes over her ailing father's racehorse stables. Despite her lack of knowledge, she navigates the male-dominated horse racing industry, fostering the great Secretariat to a record-breaking Triple Crown win.
The principal horses to portray Secretariat were Thoroughbreds Trolley Boy, Secretariat's great-great-great-grandson and Longshot Max.
3- Seabiscuit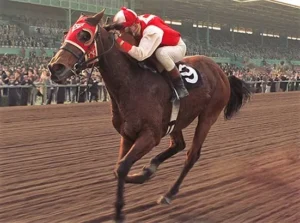 Set in the depression-era, Seabiscuit tells the true story of an undersized racehorse who inspired the nation.
The 2003 film by Gary Ross is based on the real-life events of Seabiscuit's career. Despite his rough beginning, Seabiscuit became an underdog as he won some of the biggest races in America. He even beat War Admiral, the 1937 Triple Crown winner in a one-on-one match, as the film expertly portrays.
4- Joey (War Horse)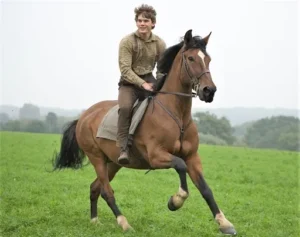 Steven Speilberg's 2011 film War Horse tells the emotional story of a boy named Albert and his horse Joey as they navigate life through WWI in Europe. Joey is a striking bay Irish Hunter that Albert's father sold to the British Army.
A heartbroken Albert tries to stop the sale of his beloved horse Joey, but is too late. Despite being too young to enlist, Albert is determined to reunite once again with his beloved horse in this sentimental story.
In this multi-Oscar-nominated movie, 14 horses played Joey, with Finder's Key, a Thoroughbred, playing the 'personality shots.'
5- Shadowfax (The Lord of the Rings)
Though Shadowfax might not be a main character in the Lord of the Rings saga, he is certainly still iconic. The stunning silvery-gray stallion is considered "lord of all horses" as he comes from the Mearas, the greatest horses of Middle-earth.
The only person capable of riding Shadowfax is Gandalf, who rides the noble steed bareback and bridleless. In addition to being able to understand human speech, he also possesses incredible speed, strength, and intelligence. Two Andalusian horses, Blanco and Demero, played the role of Shadowfax.
6- Hidalgo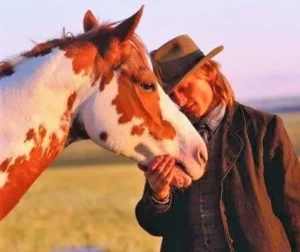 Hidalgo tells the story of a Pony Express courier and his horse, Hidalgo, who together travel to Arabia to compete in a legendary horse race.
7- Maximus (Tangled)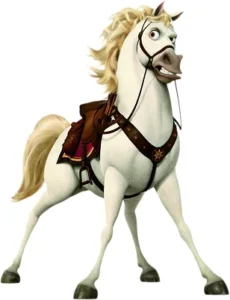 Thanks to his quirky personality, Maximus the horse became a favorite among fans. Starring in the hit 2010 Disney movie Tangled, Maximus is a beautiful white palace horse for the Royal Guard of Corona.
Maximus starts off as the arch-rival of Finn Ryder, who is wanted by the Royal Gaurd. Fortunately, Rapunzel intervenes and the two soon become an unstoppable duo. Maximus, along with Rapenzul's other sidekick Pascal, provide comedic relief throughout the movie.
8- The Black Stallion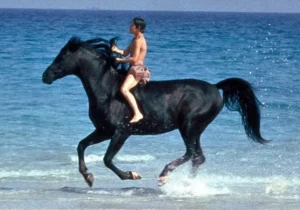 After surviving a shipwreck that has left young Alec stranded on an island with a mysterious Arabian stallion, the boy and the horse are forced to find common ground. The Black Stallion tells the story of their rescue and the bond they form as they prepare to race the fastest horserace in the country.
9- Silver (Lone Ranger)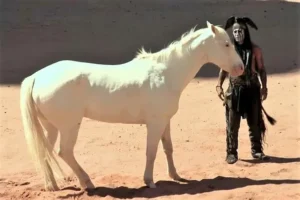 A western classic, The Lone Ranger has two several adaptations including Warner Brothers' 1956 film and Disney's 2013 film. One of the most iconic characters of the movie is the Lone Ranger's stunning white stallion, Silver.
Throughout the movies, Silver is the Lone Ranger's most trusty companion. Fours horses played Silver in the 2013 adaptation and it took the crew a lot of work and makeup to keep the white horses clean.
One of the main horses to play Silver in the 2013 film was a Quarter horse who also happened to be named Silver.
10- Pilgrim (Horse Whisperer)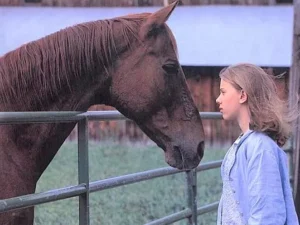 The 1998 hit movie, Horse Whisperer, is one of the most popular equestrian movies. The leading equine character of the movie is Pilgrim, a troubled chestnut horse.
Pilgrim and his rider Grace are left traumatized after a serious accident. Desperate to help the two, Annie, Grace's mom, tracks down "horse whisperer" Tom Booker. At Booker's ranch in Montana, he helps Pilgrim and Grace heal together as they slowly begin to gain their confidence back.
As mentioned in our Horse Whisperer facts guide, four horses portrayed Pilgrim in the Horse Whisperer. Three Quarter horses, High Tower, Maverick, and Cash, played the aggressive and traumatized Pilgrim. The fourth horse was a Thoroughbred gelding owned by Buck Brannaman, who portrayed calm Pilgrim.
11- Mister Ed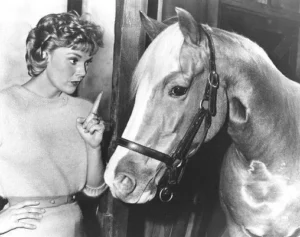 Mister Ed is an American sitcom that ran from 1961 to 1966. The comedic show centers around a mischievous palomino horse named Mister Ed and his owner, Wilbur Post.
Mister Ed has the ability to talk, however, he only talks to Post. This causes his doting owner never-ending chaos, frustration, and laughter. Mister Ed constantly messes around with Post, leading his wife and neighbors to think he is eccentric.
Bamboo Harvester, a Saddlebred/Half-Arabian cross portrayed Mister Ed for the entire running of the show. Before his iconic role, Bamboo Harvester was a parade and show horse. He also had a Quarter horse stunt double, Pumpkin.
12- Flicka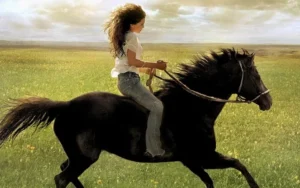 Starring Tim McGraw, Flicka is about a young girl's attempt to tame a wild mustang and make it her own, while proving to her father that she has what it takes to take over the family ranch.
13- Misty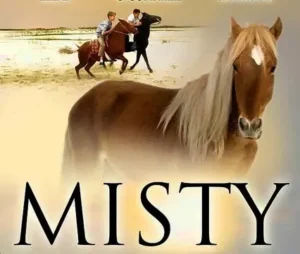 The 1961 feature film Misty is based on Marguerite Henry's 1947 award-winning book Misty of Chincoteague. Misty is a pinto Chincoteague mare that two orphans form a special bond with.
Set on the island of Chincoteague in Virginia, the movie focuses on the famous Chincoteague pony swim. After their parents die, Paul and Maureen Beebe, move in with their grandparents on Chincoteague. They then befriend an elusive mare Phantom and eventually they eventually become the owners of her foal, Misty.
Misty was a real-life Chincoteague pony and she took part in the movie premiere. Multiple horses portrayed the famous Chincoteague pony in the film, including one of her relatives.
14- Fury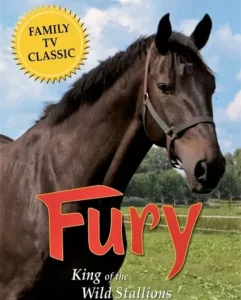 Airing from 1955-1960, Fury aired on NBC showcased the exciting adventures of a boy, Joey, and his horse, Fury. Fury, a wild horse, is notorious for only letting Joey ride him, except on the rare occasion where someone proves to be worthy.
Throughout the series, Fury is constantly rescuing people who end up in trouble. An American Saddlebred by the name of Highland Dale, or Beaut, played the magnificent Fury.
15- Trigger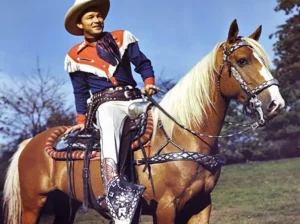 The 1946 film My Pal Trigger stars the legendary palomino stallion, Trigger, who plays himself. Based on a story by Paul Gangelin, the movie tells the origin story of Roy Roger's faithful mount, Trigger, and the deep bond they share.
Trigger is one of the most iconic horses ever in film, starring in numerous motion pictures. As the "smartest horse in movies" Trigger knew over 100 tricks. His sire was a Thoroughbred and it is believed that his dam was a Quarter horse cross.
16- The Pie (National Velvet)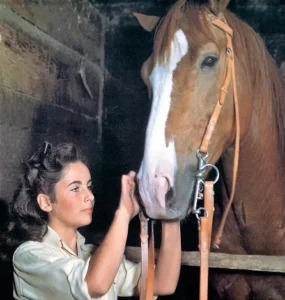 National Velvet stars a young Liz Taylor as Velvet Brown, a young equestrian who wins a downtrodden horse in a lottery and tries to turn him into a champion.