The Dog Wags Its Tail While The Two Horses Looked At Him With Interest.
|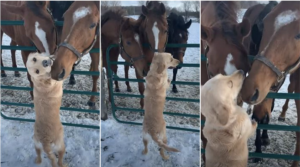 This adorable video shows a dog happily waving its tail while two horses sniff their fur and mysteriously examine it. Bailey, a -year-old golden retriever, unexpectedly interacts with several horses at a racehorse in Toronto, Ontario, with his owner, racehorse trainer Stephen Chilkop, 35. I was hanging around. Racehorse Kitten Solutions (6 years old), Lady Bella (6 years old), and Willy's Castle (5 years old) held their heads and reached over the enclosure to sniff and inspect the dog.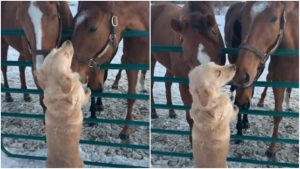 I definitely love what all these beautiful animals convey and it's a lot of positive energy.
Video: