FAMILY CAN'T STOP LAUGHING AFTER MISSING DOG RETURNS HOME WITH RIBBON SHE WON FROM A DOG SHOW.
|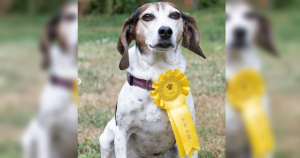 Bonnie had a lot of adventures on her trip.One family thought their beloved Beagle Mix was gone for good.What they didn't expect was for their dog to return – and with a surprise for them!
Peter and Paula Closier's Beagle mix, Bonnie, had gone missing on a Sunday, and they were terrified she wouldn't come back.
Their fears were allayed when the dog came home later that day.
However, Bonnie didn't go back the same route. As she hurried in their direction, Peter and Paula observed that she was wearing a yellow ribbon around her neck.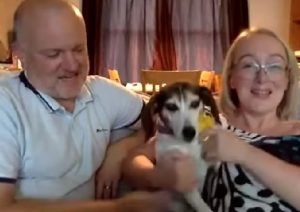 The ribbon stated that the puppy had placed third in a dog show!The couple, perplexed by her award, eventually discovered what had happened.John Wilmer was on his way to a dog show in Surrey when he spotted the beagle mix.He was curious about the dog's owners, but he was unfamiliar with the pup.On his way to the show, an idea occurred to him.He decided to bring the beagle because he was about to enter a dog show with his own dog.Who knows if she'll come out on top?John also brought two more dogs to the show.
He was already late for the show, but he still had time to post on Facebook about finding Bonnie.He eventually decided to bring her in and enter her in the "Best Rescue Dog" competition.And, true to form, Bonnie took third place!Bonnie appeared to have left the house in order to win.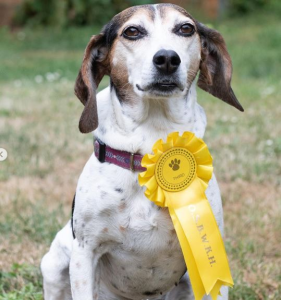 Peter and Paula, on the other hand, came across John's Facebook post and were relieved to learn that Bonnie is in good hands.Bonnie returned to the couple's welcoming arms later that day, but this time she had a gift for them.Bonnie proudly wore the ribbon, and her parents are equally pleased with her accomplishment.However, the fact that they were worried sick remains.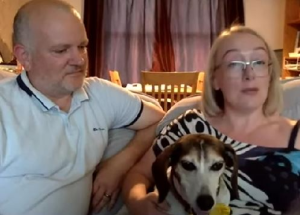 Because of the incident, Peter and Paula are more cautious now when it comes to looking after Bonnie.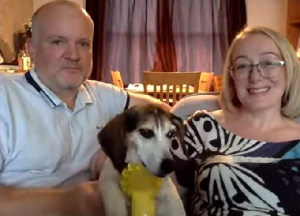 Bonnie still stands a decent chance of winning the gold the next time, even though she just has a bronze medal right now. Will her parents allow her to take part in the tournament again?
"We might," Paula said in response. She is obviously having fun with them.
So, if Bonnie could finish third without exerting any effort, just think of what she could achieve with enough practice. This dog is really gifted.
If Bonnie is given another opportunity to perform on the program, we'll have to wait and watch. That is, if she leaves the house with her parents as opposed to going out on her own.
Watch the video below: