Dog comforts An Orphaned Few Days Foal After Losing His Mother
|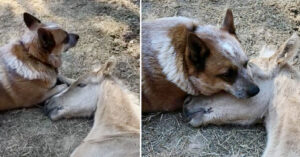 It isn't surprising to see dogs being mothers for another cat's or dog's babies, but Zip, a kind dog, is taking care of Tye, a nine-day-old foal after his mama,Sandy, was put down due to health issues when she was 22 years old in S & K Quarter Horses in Fayette, Alabama.
The foal's mother passed away, and Swindle was suddenly faced with the challenge of raising an orphaned foal.Thankfully, she doesn't have to do it alone. Her rescue dog named Zip has stepped up in a big way, and the love and compassion he has for the orphaned foal is touching hearts everywhere.
The owner of the organization,Karla Swindle, said that the existence of Zip was very useful as he took care of Tye like if he were his mama.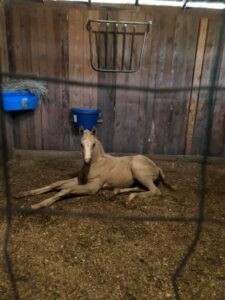 Caring for an orphaned foal is no easy task, but Swindle is thankful to always have Zip's help.
Zip just acts kindly to Tye, he even puts his paws under the foal's neck to comfort him while sleeping.He does not also leave the foal's side all the night. How awesome. Watch the video below.
Video: