DOG COMATOSE ON ROADSIDE MAKES AMAZING RECOVERY.
|
A dog lay in a coma by the side of a busy road, completely unresponsive when rescuers from Animal Aid Unlimited arrived.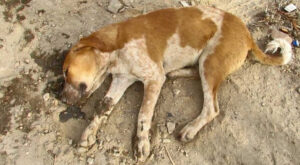 We carried him to Animal Aid quickly after carefully lifting him.He was thoroughly inspected from head to toe, but there were no visible signs of broken bones.Suspecting a head injury, we treated him with a drug that lessens brain swelling.
He fell slept for a full day. And on the third day, well, just watch and see what Roxy's unbridled delight today looks like.
Watch the video below: