Brave farmer pictured running through Greece wildfires to save his animals.
|
The man was determined to bring the animals to safety despite the towering flames (Picture: EPA)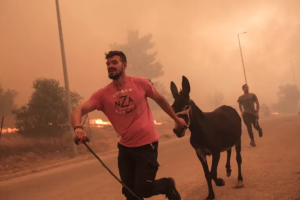 (Picture: EPA)
During the burning in Greece, a brave farmer was seen putting himself in danger to save his animals.Kostas Tsironis, a photographer, caught the man in Fyli, which is near Athens. The guy has not been named. Even though it was dangerous, he led a goat, a dog, and a horse to safety. As a fire rages down the road, pictures show him bringing the scared animals to safety.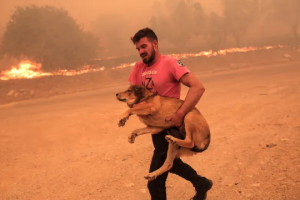 (Picture: EPA)
In one picture, a farmer carries a dog away from the hot ground so the dog doesn't have to walk on it.As fires spread across Greece, many people have been forced to leave their homes. As firefighters searched the area of a big blaze, they found the bodies of 18 people. Authorities were trying to figure out if the group could have been immigrants who came from Turkey through the close border.The finding was made in the Avanta neighbourhood of the city of Alexandroupolis. At the same time, hundreds of firefighters were fighting dozens of wildfires that were starting all over the country because of the strong winds.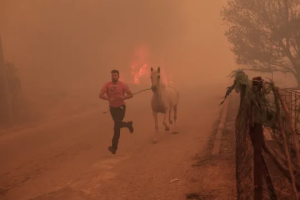 (Picture: EPA)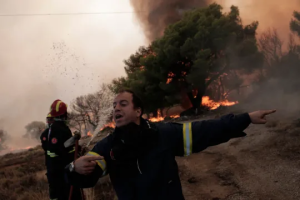 (Picture: EPA)