AFTER AN EXPENSIVE TRIP TO THE VET, THE MAN DISCOVERS THAT HIS LIMPING DOG WAS ONLY COPYING HIM OUT OF SYMPATHY!
|
It's always very concerning when our pets seem sick or injured.You want to make sure they're okay, and get them to the vet as soon as possible.
But while one man worried about his dog,  he discovered it was the dog who was more concerned about him – and what appeared to be an injury turned out to just be his kind pet's way of showing solidarity with him.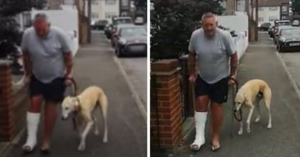 Russell Jones of London, England, needed crutches after suffering an ankle injury.
However, when the man went for a walk with his 8-year-old lurcher named Billy, he noticed something strange. The dog suddenly started limping.Jones rushed him to the vet, concerned about what had happened to his dog.The worried owner spent around [£.300 ($.400)] on scans and X-rays for Billy, only to discover that his dog was imitating him out of sympathy.And every time they went for a walk,the gentle Billy was limping just like his human companion!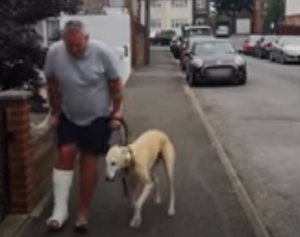 What appeared to be an outpouring of affection and sympathy for the man turned out to be nothing more than an act of solidarity from the dog. Dogs are truly the best.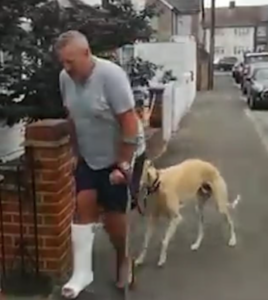 Animals are amazing and are our best friends! Your dog simply wanted to say, "You are not alone, hooman…I am with you through thick and thin."
Video: