A LOVING HOME FOR RETIRING MILITARY VETERAN HORSES AFTER THEY HAVE SERVED.
|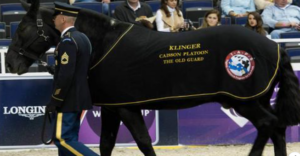 Quincy is a member of an elite squad of horses called the U.S. Army Caisson Platoon. He, and the other horses in his platoon, have participated in thousands of funerals for Arlington National Cemetery. But when they retire from the army, the horses need a place to live out their golden years where they will be treated with love and respect. That's why the Caisson Adoption Project was established. The program pairs veteran horses with human veterans.
"They spend so much time making a decision to ensure that these horses are cared for for the rest of their lives," George Whitaker says. Whitaker should be aware. Quincy was adopted by the retired army veteran.
After learning Quincy suffers from navicular disease (a chronic condition caused by nerve damage in the hooves), Whitaker was committed to making sure Quincy had a comfortable place to retire to and arranged for him to live on a farm, which specialized in rehabilitation for horses like Quincy.
"Quincy will spend the rest of his life as my companion on the farm," Whitaker says. "As long as he has a good life, he'll stay [here] on the farm forever."
It's wonderful to see how well these veteran horses are cared for.
Video:
According to Popular Military, this innovative program matches retired army horses with human veterans.