A dog who has never been inside before takes his first nap in a real bed..
|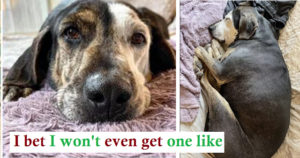 Everyone should have a comfortable and beautiful life.It is everyone's right. Not only humans but every animal should have a beautiful,comfortable and happy life. But the reality is that not everyone receive such a life. Some people have never seen what a comfortable and beautiful life is. So such a life is their dream.Today we are going to tell a story about a dog who dreamed of a beautiful life.
Sundae had spent her entire life in a junkyard and a chilly garage.
Country Roads Animal Rescue Society rescued the coonhound/Labrador retriever mix from a dog-hoarding situation in Oklahoma City, and she gave birth to a litter of pups without ever entering a home.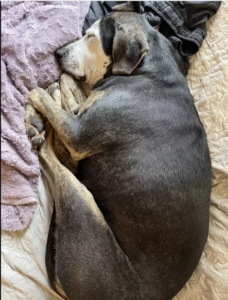 After that, she started experiencing things that she had never experienced in her life. She got everyone's love.  She loved her foster mother, the Mugglequeen, very much. She has never been an indoor dog before. But in the moment she lay in a bed for the first time, she closed her eyes very happily. And her face was filled with relief. Because she had never got such a comfortable sleep.
They gave her all the veterinary care she needed. The Mugglequeen named her Sundae and she became a very beautiful, obedient and loving dog. Now her favorite area is her bed. She sleeps there very happily and comfortably.
"Her ideal family would have a very relaxed lifestyle and a lot of patience to enable her continue to come out of her shell and acquire confidence," Mugglequeen explained. "She'll stay with me till she finds her perfect forever family!"
Hopefully, it won't take too long for someone to add this loving mama dog to their family and gain a snuggle buddy for life.